Health and Wellness Resources
This page contains a variety of resources for your optimal health and wellness. My goal is to find and share valuable information that you can apply in your life to have more energy and vitality so you can live your best life.
---
Health Equipment To Go
While we are all under "stay-at-home" orders, I recognized that many people will be missing their regular health treatments. While we can't accommodate everyone, we do have one Biomat and a couple of Footbaths available for rent. Click here to learn more about our "health equipment to go."
---
Recipes
Scattered throughout our blog we feature recipes that I use regularly for myself and my family. You can view all the Living Well Nutrition recipes here. Also be sure to check out our LWN Facebook page as we post recipe videos there as well.
---
Inspiring People and Health Practitioners
---
Sharon Montes, MD. By bringing the disciplines of lifestyle medicine, therapeutic movement, vibrational medicine, meditation and integrative medicine into a unified field of practice, Dr. Montes offers you 3 decades of being a pioneer in holistic medicine at her practice Living Well Whole Health.

Specialized in caring for highly sensitive people who need special dosing and customized care plans, Dr. Montes is another member of the Living Well Health Group.
Heidi Golding, D.Ac., DACM, Dipl, OM, LAc, of Living Well Chinese Medicine, offers a variety of services including acupuncture, cupping Gua Sha, and Frequency Specific Microcurrent. Acupuncture is a part of my self-care routine, and I we are fortunate to have a skilled provider right here as part of the Living Well Health Group.
Dr. Heidi Golding is Nationally Board certified with NCCAOM and holds both California and Colorado Acupuncture Board Licensure as well as maintains a Diplomat of Oriental Medicine (Dipl OM) status. She holds her Doctorate in Acupuncture and Chinese Medicine from Pacific College of Oriental Medicine, San Diego, California.
Tawny Moreno, LMT, is the healing hands behind Harmonious Touch massage therapy. Massage therapy is another "treat-ment" that is part of my personal care plan. I've known, used and recommended Tawny as a massage therapist for several years. I am so pleased that she is also now a part of the Living Well Health Group.
Dr. Stephen Henke, Henke Health — Holistic Health Care. Through a caring, supportive relationship, Stephen Henke, M.D., provides the highest quality personalized health and wellness care. The primary methods used are correction of nutritional imbalances, supplements, lifestyle coaching and, at times, prescription medications.
Dr. Cory Carroll, Foothills Family Care. With an emphasis on honoring the physician/patient relationship, this medical office offers direct primary care and strives to achieve health through education and lifestyle modification.
Angela Clark is the Stress Less Coach and a tapping professional. There is a growing body of research supporting the notion that recovery from chronic pain and fibromyalgia syndrome (FMS) is made possible by training sufferers in various mind body techniques. Tapping has been shown to help rewire the brain and is effective is both reducing pain and depression.
Click to watch this video, where Angela walks you through a simple tapping session.  To learn more about her work or if you want coaching with Angela to create a unique tapping protocol for you, reach out to her through her website, www.angelaraeclark.com.
---
Natural Supplements
Our virtual shelves are fully stocked with top-quality natural supplements. I have negotiated prices that are below the MSRP, so be sure to go through my site in order to save time and money.
Read more about these health-benefitting nutraceuticals.
---
Products that Support Health and Wellness
---
Oura Ring
Oura Ring gives you a ton of information and can help empower you to make small changes that will have a large and lasting impact on your health. If you are not getting enough sleep, and most Americans — especially those with fibromyalgia — do not, then the Oura Ring can be a big help.
We have negotiated a 10% discount for you on this great health tool, so if you decide to order one, be sure to enter the coupon code "kristy10" when you are in the shopping cart.
---

Berkey Water
If you come to the office you have probably already tried our Berkey Water. It is simply the best water filtration system there is. Their countertop and portable systems come in a variety of sizes to fit your family's needs. See more about all their systems here.
Living Well Nutrition is an authorized dealer of all the Berkey Water products. To get your best value and choose the system that is right for you, please contact and order through us at 970-685-8531.
---

DNA Energetics VibesUP wearable technology
I'm recommending this company for their wearable piezo-electric signal technology. Click here to read more about this product and company.
Use promo code "livingwell10" at check out and get 10% off your order.
---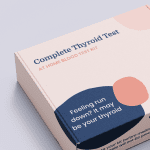 In-home Thyroid Testing
Paloma Health is the first online medical practice focused solely on hypothyroidism. Now you can get your thyroid tested from the comfort of your own home. Use the promo code "LIVINGWELL" and get 40% off your first test kits
---
Direct Access Lab Testing
UltaLabTests allows YOU to order your own bloodwork through the Living Well Nutrition link. An affordable way to follow up on health concerns and monitor vitamin levels.
---
As a Functional Nutritionist, I provide a variety of tests for my clients.
---
Be sure to check our latest special offerings which can include discounts on supplements and services or special bundles. All are designed to help you save money while improving your health. These specials are available while supplies last and/or for limited times, so don't wait to save or you might miss out!
---
Stay tuned for additional health and wellness resources — check back often. And if you find something (or someone) you would like us to share, please let us know!
Living Well Nutrition
The Center for Epigenetic Counseling
Phone: 970-685-8531
Email: Kristy@LivingWellNutrition.com
Address: 1435 29th Street, Suite 100 | Loveland, CO 80538