The VibesUp wrist band emits a healing piezoelectric signal. This an example of how we can harness the power in nature, using science and technology to help achieve our health goals.
The company, DNA Energetics was started by Lari Young, MD, MS, who has more than 30 years clinical experience. In addition to traditional medical training, Dr. Young holds a Masters degree in Evaluative Clinical Sciences as well as training in Integrative Medicine, Functional Medicine, Medical Acupuncture, and genetics.
Realizing that intelligent solutions originate in nature, Dr. Young founded DNA Energetics to support the body's innate healing systems that restore people to their highest vibrancy and vitality.Dr. Young founded DNA Energetics to support the body's innate healing systems that restore people to their highest vibrancy and vitality.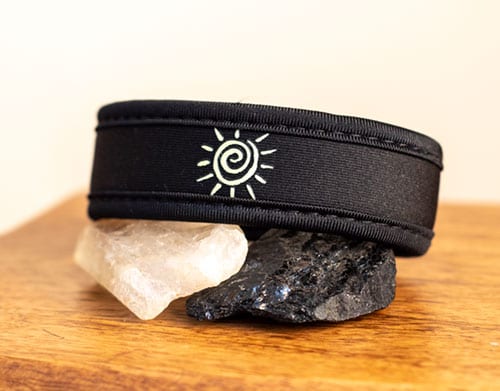 The wearable line uses VibesUP™, patented vibrational technology.
The VibesUP™ gemstone matrix material is created from a specific ratio of tourmaline, quartz and 12 other minerals which are placed under pressure to generate a piezoelectric signal. As the piezoelectric signal passes through the gemstone material and essential oils, it carries the frequencies of the essential oils embedded within it to everything it comes in contact with. In essence, the gemstone matrix functions as a natural source of bioavailable electrons and protons in proper balance for your body to utilize.
---
Why I Think This Product is So Amazing
This piezoelectric signal has the ability to up regulate key pathways by supporting genetic expression.  The VibesUp wearable line can upregulate autophagy for anti-aging, can reduce histamine production reducing mast cell activation, boost glutathion production, and more.  The bracelet is worn on the wrist where the entire blood supply passes by every 2 minutes.  When the cells pass by, they receive a boost in genetic expression using electrical signals.
---
In addition to this amazing technology, because the essential oils are embedded into the wristband/bracelet itself, there is virtually no odor and no oils that you need to apply.
If you are not sure which blend would be best to meet your health challenges, give me a call and we can discuss the best options for you and your unique situation.
Save Money
And when you do order, be sure to use promo code "livingwell10" to get 10% off your order.
Note: The VibesUp wearable line products are safe for continuous use. Since the oils are embedded within the gemstone material which is under pressure, there is little to no scent or smell and no need to apply additional oils.
---
Disclaimer: These products are not intended to be used for the purposes of diagnosing or curing any ailment or disease. They are not intended to take the place of any licensed medical doctor's advice or treatment. DNA Energetics and their partners assume no responsibility for your actions using products provided.